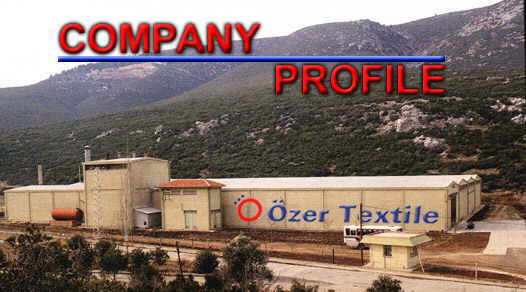 Dear Visitor,

The Ozer Textil is founded in 1985 began production in 1987. Initially, conveyor belting fabric formed the whole of the production and in a short period of time, propduction of canvas, hoses fabric, chaffer etc. industrial fabrics were realized. It realized conveyor belting fabric exportation to Italy in 1989 and it was followed by exportation to Iran and Egypt.

The Ozer Textil, with 1987 model SULTZER weawing looms have the capacity of weaving conveyor belting fabric of 1.500.000 m2 / year, also the SAURER - ALBA twist machines which have the capacity of 1.600 ton/year and last system deeping units which have the capacity of 6.000.000 m2 / year gives service with the specs that was developed by themselves and also makes production for meeting the demanded specs of the customers.

The Ozer Textil has 5.800 m2 closed area in a 13.500 m2 open space and together with its staff 4 engineers, 3 technicians and 33 workers pleased to give you the best service.
ozer textile home page | fabric types | contact ozer textile
---